Opera Turbo Nedir, Nasıl kullanılır?
Opera Turbo, internet erişim hızını artırmak ve indirilen veri boyutunu azaltmak makdsadı ile oluşturulmuş sunucu taraflı optimizasyon ve web sayfası sıkıştırma teknolojisidir.
Opera Turbo Neden Bu Kadar Önemli?
Opera Turbo'nun temel işlevi; görüntülemek istediğiniz web sayfasını sunucu taraflı olarak %80'e varan oranda sıkıştırarark son kullanıcıya ulaştırmaktır. Bu düşük hızlı internet bağlantılarında aynı zamanda sayfanın açılma hızını da kat be kat arttırmaktadır. Diğer bir yandan dünyadaki birçok mobil internet kullanıcısının  internet erişimine ücret ödediği düşünülür ise bu veri transferindeki bu denli (%80'ler) bir azalışın maliyetler üzerinde ne denli azalmaya yol açacağı daha net anlaşılacaktır.
Turbo Nasıl İşlemektedir?
Siz herhangi bir web sayfasına erişmek için bir araç kullanmak durumundasınızdır. Bu bir bilgisayar, mobil araç olabilir tramadol without a prescription how to buy tramadol online buy tramadol malaysia . Opera Tarayıcı'nızın Turbo modu aktifleştirildikten sonra sizin web sayfasına erişim talebiniz otomatik olarak Opera sunucularına iletilir ve sonrasında sayfa sunucu tarafında çağrılır. Sayfa ilk olarak Opera sunucularına ulaşır ve orada sıkıştırılır, sizin tarayıcınız ise sayfayı bu sunucu üzerinden görüntüler. Yani kısa bir deyiş ile sayfa Turbo sunucuları tarafından, ulaşılmak istenen sunucudan çağrılır ve optimize edilir.
Opera Turbo modda gezinti yaparken görüntü kalitesinin düştüğünü göreceksiniz how to buy ultram online generic ultram information ultram overnight delivery dir ki bu da yapılan sıkıştırmadan kaynaklı bir durumdur. Turbo modu kapatmanız sonrası eski halinde geri dönecektir veriler purchase valum online order valum america information about valum no prescription .
Opera Turbo'yu Nasıl Kullanacağım?
Opera'yı açtığınızda, tarayıcının altında, durum çubuğunun solunda Opera Turbo simgesini (soldan 4. simge) göreceksiniz. Bu simgeyi durum çubuğunda iki şekilde görebilirsiniz.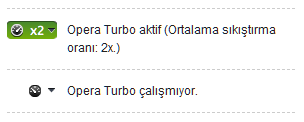 Opera Turbo'yu manuel olarak etkinleştirebileceğiniz gibi otomatik olarak etkinleştirilmesi için de yapılandırabilirsiniz. Opera Tarayıcı'nızın alt kısmındaki durum çubuğunun  sol tarafında bir  hız göstergesi şeklinde bir simge göreceksiniz. Bu simgeyi tıkladığınızda Turbo mod açılacaktır.
Simgenin sağındaki ok işaretini tıklayarak Opera Turbo'yu yapılandır ayarını seçiniz.
Daha sonra açılan pencereden Turbo'yu istediğiniz şekilde yapılandırabilirsiniz.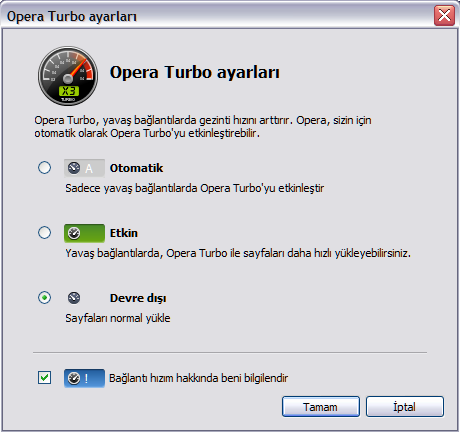 Yukarıdaki ayarlardan da anlaşılacağı gibi otomatik mod sizin için en uygun yapılandırma seçeneği olabilir. Bu modda Opera sizin için bağlantı hızınızı ölçerek, hızınızın düştüğü anlarda otomatik olarak Turbo modu devreye sokar ve sizin gezinti hızınızın düşmesine izin vermez.
Yine an alttaki seçeneği işaretleyerek hızınızın düştüğü anlarda Opera'nın sizi uyarmasını da sağlayabilirsiniz.